2022 Sprout Film Festival
The Arc-Solano was proud to host its 4th annual Sprout Film Festival, which focused exclusively on films that celebrate the diverse lives and creativity of people with developmental disabilities. The festival challenges assumptions and breaks down stereotypes. Attendees were amazed, humbled, and filled with admiration for a population that largely remains hidden on the sidelines.
We are so appreciative of all donors and attendees for their support. Funds raised from the Sprout Film Festival were put towards our mission, which is to promote the greatest personal growth, community understanding, and full participation of people with developmental disabilities and their families through support, education, and advocacy.
We look forward to working with you and sharing another amazing experience with you again, next year! 
Related Links
Sprout Films
Silent Auction
This year, we featured an array of "experiences" from TravelPledge, ranging from ballet and guitar lessons to trips to a Mendocino B & B and a week in Las Vegas.  We are also proud to have had items and gift cards from our amazing local businesses, restaurants, and artists! Donors to our silent auction included places like Alibi Bookshop, the Lawrence Hall of Science, Buttercup diner, the Sacramento Rivercats, local author Claire Kann, and local jewelry artist Gina L Tucker. Attendees had plenty of time to browse the items before we begin the films and during intermission. 
Everyone had a glorious time and we thought you'd all like to see some of the many captured moments.
---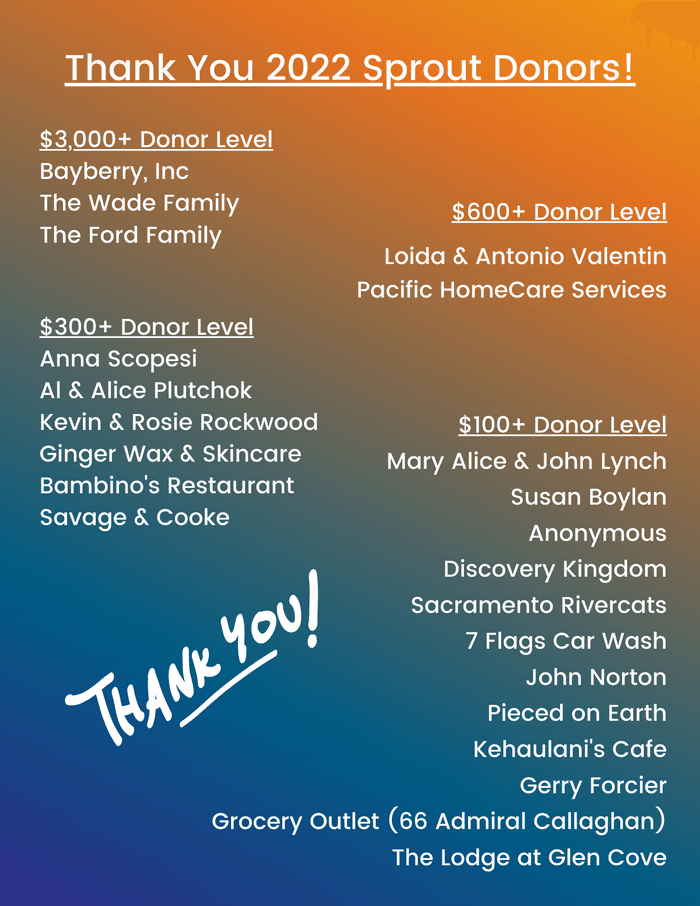 Thank you to Grocery Outlet (66 Admiral Callaghan Lane) and The Lodge at Glen Cove for providing our bar and desserts at this year's Sprout Film Festival! Your generosity is very much appreciated!
---